Head here for Adelaide's official website
Adelaide defeated Brisbane Roar 2-1 on Sunday after Sergio Cirio calmly converted a 98th minute penalty to seal the win.
On morale-boosting win over Roar
"It was a massive win for us and especially for the fans," McGowan said.
"And the way we've been going recently for the team morale and a little bit of confidence.
"We've got a lot of young boys in the team that haven't won too many games in their career."
"It's important we finish the season as strong as possible and try and repay some of the faith the Club and the fans have showed us over the year."
That. Was. Intense. 🔥 #AUFC #ADLvBRI

📰 Match Report: https://t.co/fFQiTRRLJW pic.twitter.com/Pq9ZlxUsfd

— Adelaide United FC (@AdelaideUnited) March 19, 2017
The Reds are now just two points adrift of the ninth-paced Central Coast Mariners ahead of this weekend's clash between the two clubs.
On avoiding the wooden spoon
"It's nothing to be excited about, getting off the bottom of the ladder," McGowan said.
"But in terms of a pride aspect, it's a massive game for us.
"We definitely don't want to finish last and as a squad we think we're better than that.
"It's about showing a bit more fight and showing that we've got the pride to get this Club out of the situation we put it in."
Reds claim controversial clash against Roar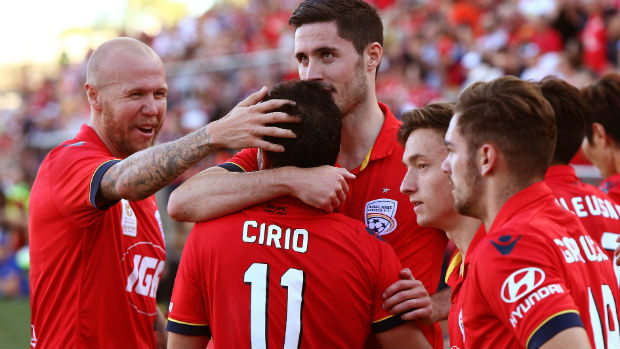 On finishing the season strongly
"You saw on Sunday against Brisbane] we're hardly going to chuck in the towel with the A-League as well," McGowan continued.
"If we can't make the finals we want to finish seventh, and if we can't finish seventh we want to finish eighth.
"The way this club is we're too big a club to be at the bottom, the squad has too much pride to be sitting at the bottom.
"I don't want to go from champions to finishing last, so that's a massive motivation within the squad and club. We'll fight and scratch as hard as we can to get ourselves up the table."
This article was originally published at: http://www.adelaideunited.com.au/article/pride-on-the-line-insists-mcgowan/9fez91s2qedf1qmsady6v8wrg.